Your support makes it possible for LEAP to educate and advocate for the end of the drug prohibition
For online Donations (one time and recurring) please select a payment method: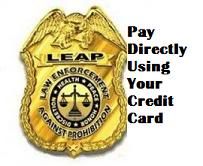 (U.S. Donations Only)
Donate via PayPal:
Set Up a Monthly Donation via PayPal:
Donate via Network for Good:

Donate via BitPay:
Or, if you prefer, you can print this form and mail a check made payable to "LEAP, Educational Fund" to:
LEAP is a U.S. Internal Revenue Service 501(c)3 nonprofit educational organization.  Donations to LEAP are tax deductible to all U.S. residents.

Check with your Human Resource Department for a matching donation form which can double your donation to LEAP.