LEAP Merchandise
Shipping
Domestic
Any one item= $2.50
Two shirts, or a shirt and a DVD= $5.00
Three shirts or more (Priority flat rate box) = $7.50
International
$6.00 base rate to Canada and $8.00 base rate to other countries
**if you are purchasing more than two t-shirts, books, or other large items to be shipped internationally, the LEAP office will contact you regarding shipping rates.
---
NEW! LEAP Hat
Our new LEAP hat features the LEAP badge logo embroidered in gold on the front and www.CopsSayLegalizeDrugs.com on the back. The hat is navy blue cotton with a "low profile" front and is adjustable at the back. One size fits all. $22.00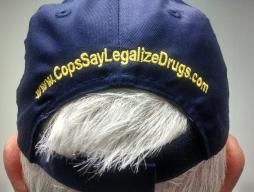 ---
---
NEW! LEAP Challenge Coin
Our new LEAP Challenge Coin is a special distinction for supporters of the LEAP Membership program. By becoming an Associate or Law Enforcement Member of LEAP, you are pledging your dedication to a uniquely credible drug policy reform organization. The commemorative Challenge Coin is our "thank you!" to those extraordinary members who donate $100 or more upon joining our membership program. Please note that if you order a challenge coin and would also like to receive your official LEAP membership card, you must leave a note in PayPal. Write in "CARD" and our staff will email you our full membership form. The coin is printed on both sides, 1.5 inches in diameter and is gold plated. $100.00 (Shipping for this item is complimentary)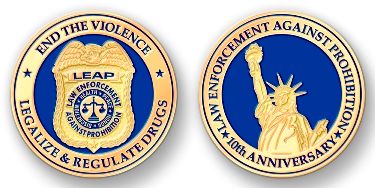 ---
---
NEW! LEAP Iron-On Patch
Our new LEAP iron-on patch can make any shirt, sweatshirt, backpack or bag into an official LEAP item! The patch is in the shape of the official LEAP badge logo, and features blue and gold embroidery on a sturdy iron-on backing. Easy to apply and looks great! The patch measures 3 inches high and 2 inches wide. Instructions are included. $7.50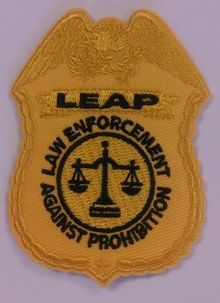 ---
LEAP T-Shirt
You'll be sure to attract plenty of attention in this bold LEAP T-Shirt which literally demands the attention of passersby. You're a fearless fighter against injustice and prepared to tell the whole world why!
100% Cotton Pre-Shrunk Available in black or white sizes S-XXL
Suggested donation: $10.00
---
LEAP Lapel Pin
---
Amazon.com LEAP Purchases
LEAP WILL AUTOMATICALLY RECEIVE DONATIONS WHEN YOU MAKE PURCHASES (for any item) ON AMAZON THROUGH OUR SITE! Click here for more information.
Click here to purchase books by LEAP speakers
---
"Law Enforcement Against Prohibition is a singular organization whose credibility and experience provide one of the strongest voices against the War on Drugs anywhere in the world."
— Michell Alexander, author of "The New Jim Crow"

(Suggested donation: $10.00)
---
LEAP Bumper Stickers
LEAP Bumper stickers help get the word out about the War on Drugs. Send a message while you drive.
Suggested donation $5.00