About James Nolan
Former Police Lieutenant and FBI Unit Chief
James Nolan
Morgantown, West Virginia
"After seven years, I saw clearly that we had not made a positive difference."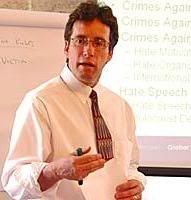 James (Jim) Nolan served in the Wilmington, Delaware police department for 13 years, with seven of those years in the drug unit investigating drug conspiracy cases. He was involved in the execution of hundreds of search warrants, often storming through the doors of unsuspecting people on no-knock warrants. During the 1980s, he was assigned to the unit known as the "vice squad," where he went undercover to investigate drug dealers with the goal of eventually putting them in jail. While working on his doctorate in psychoeducational processes, Jim's attitude in policing began to change; by the early 1990s, Jim, who had now been promoted to lieutenant, was supervising a community policing unit. He went on to join the FBI, serving as a unit chief in the Crime Analysis, Research & Development Unit. He is now a professor of sociology at West Virginia University.
Like many officers, Jim began his career wholeheartedly believing that he was engaging in a war of good against evil. "I wanted to be a drug cop the same way my students now want to be crime scene investigators," he notes. "I believed that the problem in society was drugs and therefore stopping the flow of drugs into the inner city was important." But his undercover work led him to get to know the people he investigated as human beings "I had long justified the violation of moral responsibility in undercover work as a necessary evil in the war on drugs," Jim says, "but at the end of my seven years in this unit I saw clearly that we had not made a positive difference. Good people along with their families and neighborhoods were irrevocably harmed, many of them for purely political reasons."
During his years in the drug unit, Jim came face-to-face with the dangers of enforcing drug laws many times. "Executing no-knock warrants was dangerous work," Jim says. "It was not uncommon for those whose lives were ruined by the arrest to want to hurt police officers. I once had a small time dealer call me to say that he was watching my wife and daughter and how easy it would be to get them." He explains that people also sometimes turned violent at the shock of learning that a trusted friend was actually an undercover officer: "I once had to arrest a person from whom I had purchased some quantity of cocaine on several occasions. We had become friendly. On the last purchase I had to identify myself as a police officer and make an arrest; he was shocked and very angry. My backup missed the many signals I was giving over the transmitter and didn't move in to help until they saw us wrestling in the middle of a busy street. This type of thing happened a lot."
Jim holds a BS and MS from Wilmington University and an M.Ed and Ph.D. from Temple University. He wrote about his journey from the vice squad member to a sociology professor in the essay "From Vice Cop to Sociology Prof: A Long Journal to a Familiar Place", which was published in 2002 in the journal The American Sociologist.