About Dan Mulligan
Police Sergeant
Bracebridge, Ontario, Canada
"Legalization and regulation is the ONLY way to go – we've made far too many criminals of our youth in the interim."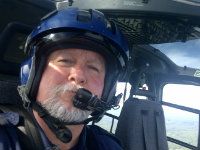 Dan Mulligan is a 29 year veteran of the Ontario Provincial Police, where he is a sergeant and currently holds the position of Pilot in Command – Helicopter within the department's aviation services section. In the three decades he has spent in law enforcement, Dan has participated in a wide range of police work, from uniform patrol to undercover narcotics to criminal investigation. Criminal investigation and wiretapping became Dan's primary focus, eventually earning him the rank of Detective Sergeant within the electronic interception section of the department's technical support branch. Dan grew up with a fervent desire to serve as a law enforcement officer. Motivated by an interest in problem solving and dealing with people, he rejected prohibitionist drug policies from the beginning. Dan believes that the war on drugs has been a failure since its inception, and that we must all assume a degree of responsibility for the social, economic and criminal justice fallout that has resulted from prohibition. "We're faced with a total of nearly four generations now that have lived through this arbitrary prohibition with the resultant inertia in relation to accepting both completely new information on the issues as well as the significant change we're now trying to sell," says Dan. "My focus in terms of accomplishing this much-needed change in perspective will be an emphasis on the importance of decriminalizing our youth." Dan holds a degree in Law and Sociology, with a focus on Criminology and Corrections, from Carleton University in Ottawa, Ontario, and has participated in a number of justice-related forums in Canada. He resides in Bracebridge, Ontario, with his wife of 32 years, Pam, and their three children.
* The opinions expressed by Dan Mulligan do not reflect the official position of his employer. The appearance of the name "Ontario Provincial Police" solely constitutes biographical background information and should not be construed in any way as an endorsement of LEAP by the Ontario Provincial Police Department."