About Carel Edwards
Former Head of the European Commission's Anti-Drug Policy Coordination Unit
Carel Edwards
Brussels, Belgium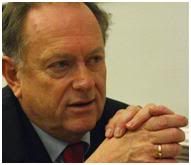 Carel Edwards was the head of the European Commission's Anti-Drug Policy Coordination Unit from 2003 to 2010. This unit is involved in the different aspects of EU drug policy, notably: prevention, education, research, training, drug precursors control, anti-money laundering, police, customs and judicial co-operation and international co-operation.
Getting the 27 nations of the EU to sing from the same hymn sheet on drugs was a difficult task," says Edwards. "I soon came to realize that most EU countries gave up on solving the drug problem long ago and essentially practice harm reduction and decriminalization, which is possibly the least bad option short of legalization, certainly preferable to the so-called War on Drugs".
The current situation, however, is not sustainable. Societies based on the rule of law should not maintain laws that run counter to mainstream social trends (lifetime drug use prevalence in the EU is approx. 20%) and cannot therefore be realistically enforced. During my seven years as drug policy coordinator, I also witnessed the struggle of Europe's chronically fragmented law enforcement agencies battling with the organized drug crime that feeds the current prohibition-based system. History shows that drug cartels can be beaten in one place, but always re-emerge elsewhere."
I do not like drugs and I wish people wouldn't use them, but I believe in policies that are evidence-based, realistic, and do the greatest good to the greatest number of citizens. In an international environment with increasing global security threats and political instability, the current system needs to be urgently reviewed at the highest political level - and fast - because it is costing money that we won't have for some years to come. The first step is for member states of the UN to call for a critical and evidence-based analysis of the UN conventions on drugs and, if necessary, to turn them into something that actually works and is in line with the UN's own founding principles. Moral values are what make us civilized, but they are no good without realistic policies."
Dr. Edwards is a British and Dutch citizen. He was educated at the Universities of East Anglia (History), Leyden (International Relations and European law) and the College of Europe (Public Administration). He started his career at the European Cultural Foundation, Amsterdam, and later played a leading role in creating the European Commission's Directorate General for Freedom, Justice and Security.