About Jeff Studdard
Former Deputy Reserve Sheriff
JEFF STUDDARD
Former Deputy Reserve Sheriff
"I would respond to drug calls...I'd hear a whole story about the problems with a kid and I would arrest him, but the drugs never went away. I never saw the consumption diminish."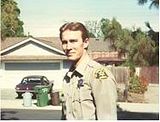 Born and raised in Southern California, Jeff Studdard has law enforcement and drug interdiction running through his veins. Jeff served for 10 years in law enforcement, as a school district police officer and reserve LA county deputy sheriff. He's also a graduate of LA County's exclusive Drug Recognition Expert program (DRE), which teaches police how to recognize impairment in drivers under the influence of drugs and/or alcohol. The program was founded in the 1970s by Jeff's father, former LA Police Department sergeant Dick Studdard, and has since been adopted and expanded internationally. Jeff's brother is a 26-year California police veteran and recipient of the Officer of the Year Award for most arrests. The Studdards are a family of cops.
Jeff's police work in Walnut Valley Unified School District convinced him of the futility of drug prohibition. He responded to mostly narcotics and weapons calls, but the school policy of zero tolerance on drugs had no impact on keeping kids safe. In fact, arresting kids had a negative impact, since the young "offenders" were circulated through the juvenile criminal justice system instead of receiving help to break free of drug use or gang associations.
In 2003, Jeff broke his back, suffering eleven herniated disks. Three surgeries, numerous pain medications and various treatments did not alleviate his chronic pain, which he describes as "bolt-of-lightning nerve damage." What did finally alleviate his pain was cannabis.
One of the reasons Jeff initially tried marijuana was to counter side effects of the various pain medications and prescription drugs he was taking. "Through my training and experience, I knew these drugs would decrease your appetite. They make you nauseous. My dad actually told my ex-wife that if I continued taking prescription drugs, I would be dead in six months. This, from the founder of the Drug Recognition Expert program."
Jeff has left his wheelchair and walks without assistance. Now that he's combined medical marijuana with the law enforcement in his bloodstream, he's taking his passion for public safety to the next logical level. Through his involvement with LEAP, he has come forward in favor of the legalized regulation of all drugs. Jeff speaks for LEAP so that others will have safe access to medical marijuana, but also because his experience enforcing drug prohibition has convinced him that the drug war simply has to end.
"I understand how some look at it, but I have a different perspective because of my personal experience. I have a pretty good educated opinion about things pertaining to drugs. My goal is to get down and dirty, to have cannabis rescheduled. I have improved, so in my eyes, only God can put the limitations on what we can and cannot do."
Palm Springs, CA