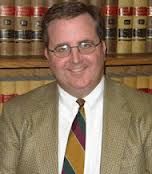 We often hear that drug dealers are attracted to the trade because of the excitement that lifestyle provides. After over fourteen years fecklessly fighting the war on drugs, Brian Leininger is convinced that many law enforcement officers and prosecutors perpetuate the war for the same reason.
As a young Assistant District Attorney in inner-city Kansas City, Kansas, Brian quickly learned that writing search warrants and accompanying the police as they took a ram to someone's door was a lot more exciting than prosecuting forgery, auto burglary and traffic cases. The narcotics officers he worked with were the thrill-seeking type who delighted in looking like Serpico and doing battle with their rival gang, the dope dealers. Brian was a 25-year-old blue-collar kid and had never been involved in anything so exhilarating.
Brian moved on to become General Legal Counsel to the Kansas Highway Patrol. Kansas is a wide open state and its interstate highways host a fair amount of the country's trans-national drug shipments. Brian rode along as the troopers combed the desolate highways trying to determine which passing car contained the mother lode. When they found it (after shaking down scores of innocent people) they posed with it as if it were a record-breaking fish.
Brian entered the private practice of law and, to supplement his income, took a job as the part-time City Prosecutor for an affluent, nearly all-white suburb of Kansas City. He did the job he was assigned to do but quickly realized his heart was not in it. The police spent an inordinate amount of time working on drug cases and executing search warrants to recover a few grams of marijuana. Brian saw this as a huge misallocation of resources.
Now Brian's only association with the drug war is to oppose it. It is clear to him that the war on drugs creates far more misery that it prevents.
Brian Leininger is a member of the National Association of Criminal Defense Lawyers and the NORML Legal Committee. The vast majority of his practice is devoted to the defense of DUI and drug cases.
Johnson County, Kansas, USA